Climate Adaptation
Climate Adaptation in the Yarra Ranges: Home Scale
Climate resilience and adaptation needs to be enabled, developed and nurtured at all levels of our society, with collective strategies vital to supporting a systemic transformation to move us towards a doughnut society.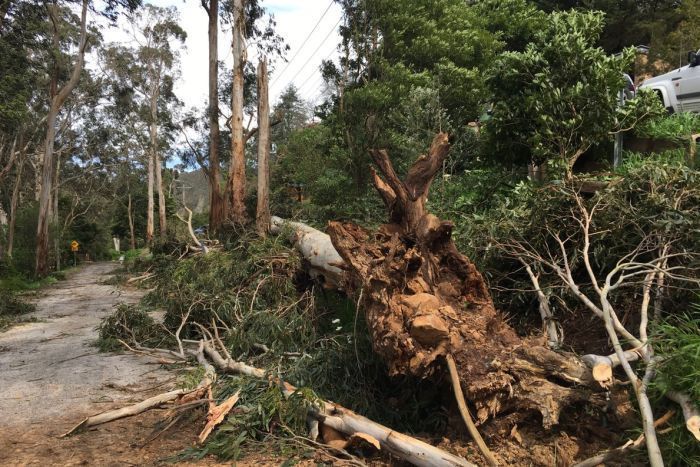 Climate resilience and adaptation needs to be enabled, developed and nurtured at all levels of our society, with collective strategies vital to supporting a systemic transformation to move us towards a doughnut society.
At the end of last year I wrote about how I felt conflicted after attending an event about climate adaptation for the Yarra Valley, because the focus was largely on individuals and technology in the home - such as solar, and energy reduction. Granted, this might be due to the fact that a significant chunk of the Yarra Ranges emissions profile is residential energy - thus a target for the council to reduce further: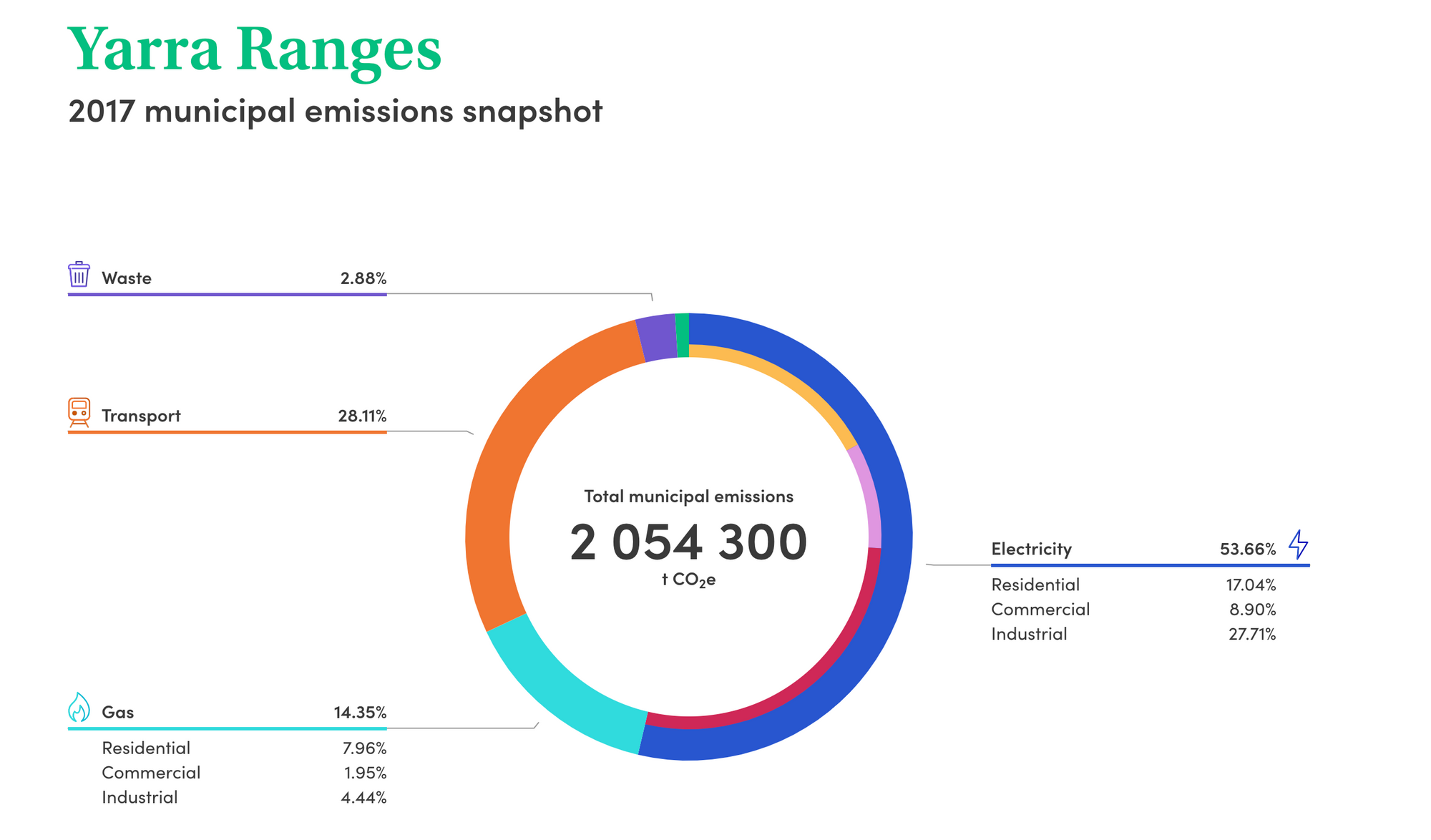 Just to be clear, in no way do I think working towards climate adaptation and resilience should reduce our commitment to reducing emissions - climate mitigation. If anything, this work should be a strong signal to our nation's elected officials to pull their fingers out and be a lot more bold in the reductions we submit at COP26. We have all the technology we need to reach net zero emissions by 2050, now we need some leadership and strategy suitable to the scale of the challenge.
So, all of that said, I believe we all need to explore our agency in this massive decade for humanity.
This post is a dive into what we can do at an individual level in the Yarra Ranges to give me a sense of the areas I can affect change directly. What's contained here is a summary of my personal research - I'm not an expert by any means.
In addition to this post, I'm writing a dive into neighbourhood level adaptation, to give me some ideas about the best actions to take there too.
Essentially, there's three categories that I am looking at for the individual level change:
Consumption
Future-proofing Our Home
Relationships
Here's a canvas for the ideas outlined in this article:
Consumption
The first step we need to look at is reducing our bloat.
Pre-COVID, we lived a lifestyle which was fairly extravagant when it comes to pretty much all factors - how much I travel, how much we buy that we don't need, my food choices, and much more.
Focusing on some key aspects of life can bring that back in check. We know that we can reduce our personal footprints best if we:
Eat mostly plants, with small amounts of meat which is raised to contribute to healthy soils. Minimise food waste.
Reduce unnecessary travel - especially flights and car. My aim is to do more train travel, less flying and car travel. My exception is for seeing my family - that's still important.
Reduce buying of "stuff" - especially focusing on clothes and toys - focus on buying second hand, or spending a little more on clothes that will last.
Future-proofing Our Home
The next step we're looking to take is to make incremental improvements to our home, readying ourselves for the (somewhat alarming projections for the) future climate.
Areas we're going to focus on are:
Energy
We're aiming to pick up some of the subsidies available in the Yarra Ranges (and beyond!) to install solar panels and a battery (with Eko Energy). In addition to the benefits of reducing our energy bills, we'll reduce the demand for grid energy (mostly dirty generation here in Aus but shifting), and also move towards one of the foundational elements of a neighbourhood microgrid.
In addition to future proofing through energy generation, we'll likely explore other ways to retro fit our home with additional insulation (even fungi material perhaps), double glazing, more energy efficient devices, and ensuring devices are shut off. Perhaps even upgrades to hot water systems such as the Reclaim unit.
In Australia, a big chunk of the year is spent trying to cool the house - as well as the split system alredy installed, ceiling fans are one of the best ways of cooling rooms, so we'll be adding some of those to the house too - more ideas at YourHome & Sustainability Victoria too.
In addition to actively cooling the house (using electricity) we also need to consider how to passively cool the house, through the likes of tree/bush planting, and well placed shades and cladding (which could also provide increased bushfire protecting).
Water
Water is set to be an increasingly erratic resource in Victoria, with heavy dumps during some seasons, and long periods of below 2020 levels at other times.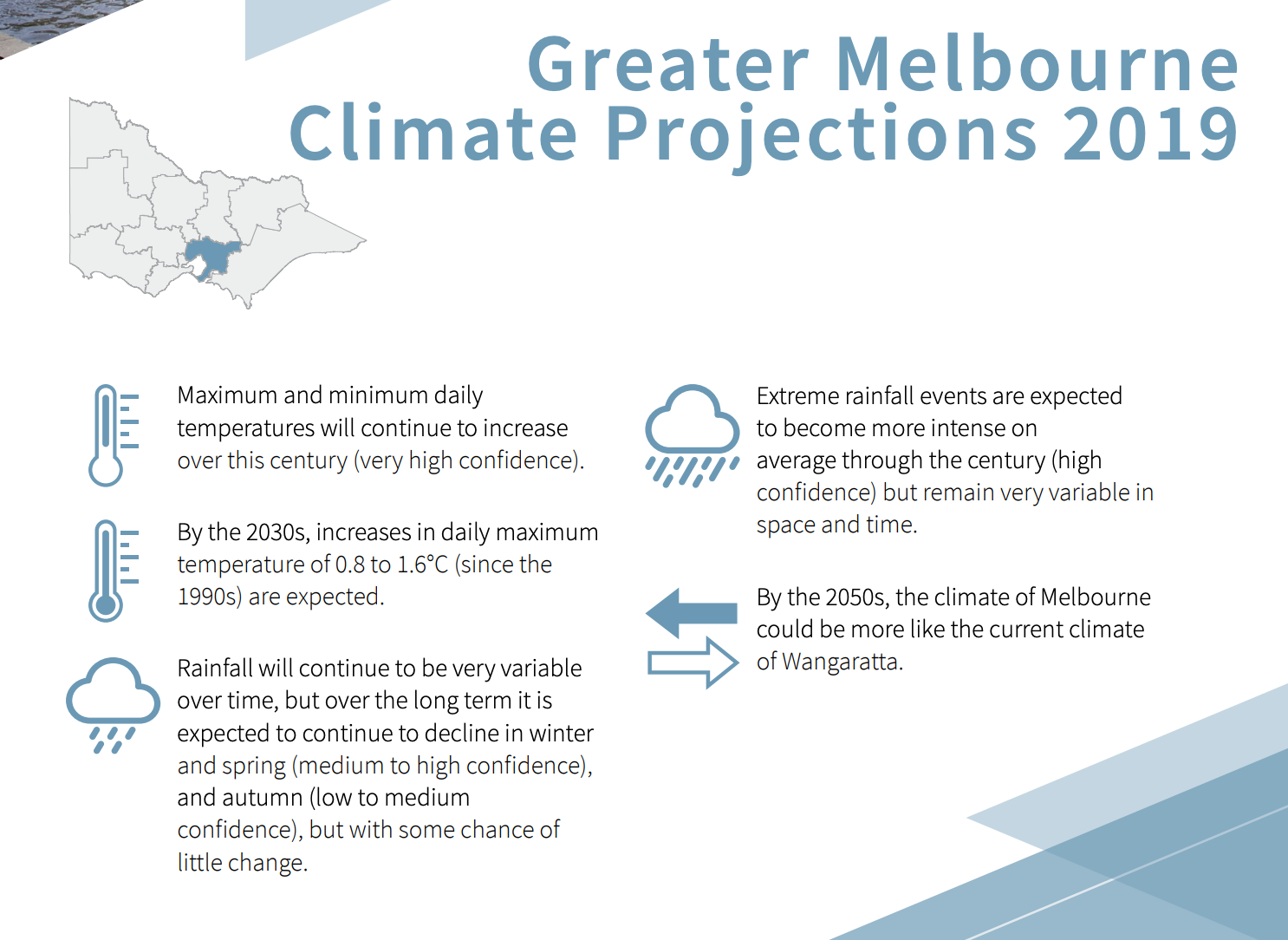 Practically speaking, we can attempt to affect change in two main areas; inside and outside.
Inside we will endeavour to go beyond being mindful of water use (limiting shower time, washing up frugally and the likes) and also add some infrastructural changes, such as lo-flow shower heads & taps and water saving appliances. However there's more to be done, such as creating systems which divert water from the roof into secondary systems such as for toilet flushing & clothes washing.
Outside we'll also make sure we're harvesting rainwater from our roof and channelling it to a (series of) water tank(s). Water tanks are the equivalent of batteries for our garden. In addition, we'll also aim to plant native grasses and trees which require minimum water, and develop some food growing areas with sustainable watering systems built in. I'd also love to get a bit creative with gardens like this from IKEA.
Finally, water may play an important role in bushfire protection. Some houses in the area have rooftop sprinkler systems for example - this is something we'll look further into (such as CFA's retrofit PDF guide).
Food
Growing a portion of our food at home is our target. We don't expect to be self sufficient, but having more than just a kitchen herb garden would be preferable.
We do have a little bit of space around the property to grow food, in addition to some established fruit trees already in the garden. We'd consider chooks as well, depending on how life pans out in the coming months and years.
Our first step will be to assess the best parts of our new home for growing food, and working out whether that will be raised beds or some other system. We're hoping to connect with the Permaculture crowd in the area for this to begin with.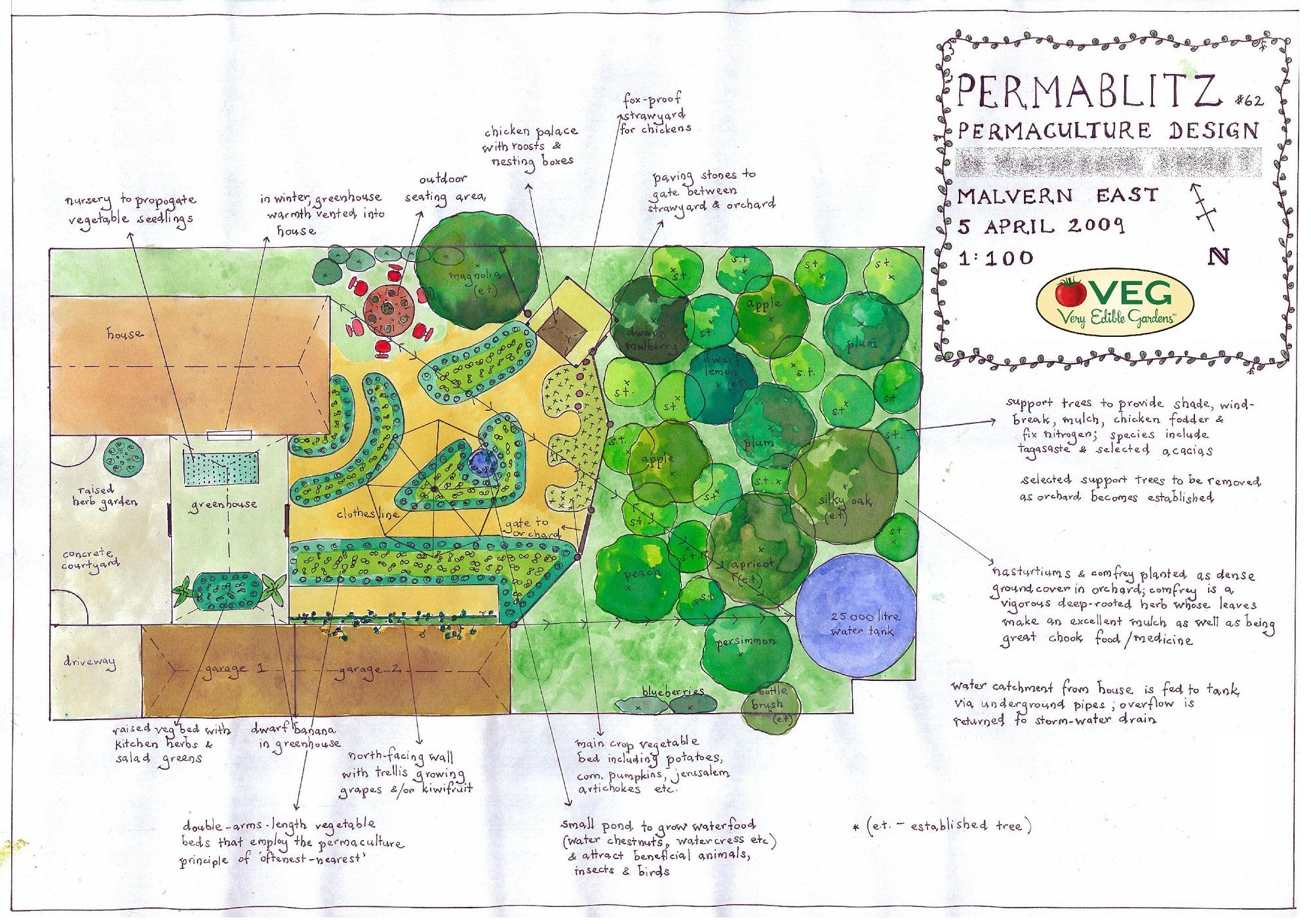 My wife, El, has been dabbling with the idea of beekeeping for quite awhile, so finally we will be able to print up our OS Beehive top bar, and get to it!
In addition, the excellent folk behind OS Beehives also put out a series of open source gardening designs, called AKER, which we'll have a play with.
I'm particularly interested in supporting initiatives which are open source, so that as communities come under the stress of climate change, we have freely accessible and usable systems which people can pick up and use. One worth mentioning here is the Global Village Construction Set from Open Source Ecology which operates more at the Farm scale, but definitely has some useful machines for neighbourhood life.
Naturally we're also aiming to reduce food waste, and channel anything we're not eating towards compost, worm farms, or chickens.
Relationships
For awhile now, I've been of the opinion that relationship building is one of the most important aspects of any change work. Through relationships we build interdependence, grow the possibility of what's possible together, and negotiate individual and collective priorities. In essence, getting to know our neighbours and beyond is the most important step we can take.
Summary
Well that's a starting point for our plans for climate adaption and resilience for our home. I'll very much look forward to investigating and writing up the next layer out - neighbourhood scale.
Bonus Resources