As the patterns build, I slowly allow myself to admit a rising terror about the changing climate here in Australia.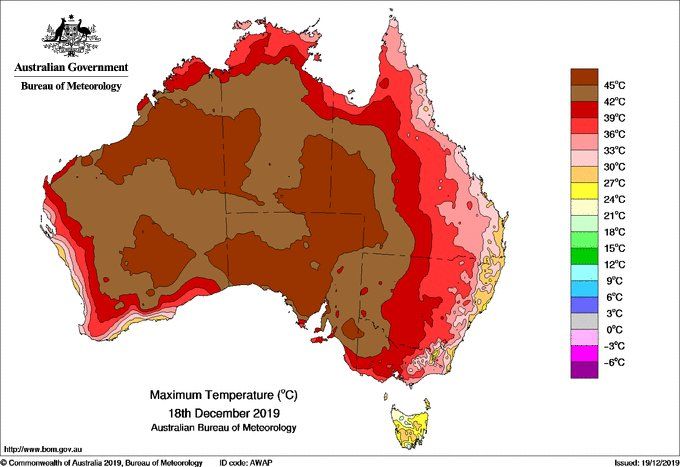 Based on preliminary analysis, yesterday, Australia recorded its hottest day on record. The nationally-averaged maximum daytime temp was 41.9 °C exceeding the record set on Tuesday, 40.9 ºC. You can view the top ten highest daily maximum temps here: https://t.co/Cdqm9vD1cI pic.twitter.com/DRDK9LAvrg

— Bureau of Meteorology, Australia (@BOM_au) December 19, 2019
Today Australia averaged 41.9°C across Australia. I hate to think what it would be if we took away Tasmania's cooler shores from that average.
A week or so ago, I headed along to the Yarra Ranges Council's event 'Liveable Homes in a Changing Climate', which presented a useful stack of information about household-level resilience strategies (you can see some of the talks here).
One moment that stuck out was the presentation of a key strategy for dealing with these 40°C+ days:
Renovate at least one room in your house into a "Cool Retreat". It should resemble a fridge; sealing off almost entirely from the outside, with an air con unit to keep it cool.
Makes sense. Alluringly simple.
"For every complex problem there is an answer that is clear, simple, and wrong."

- H. L. Mencken
Well, wrong is a little harsh. The "home resilience" ideas are an important piece in the puzzle towards broader resilience and adaptation to the changing climate.
I started thinking about my experience of these 40°C+ days. Many of them are driven by the hot, dry winds coming out of central Australia (the desert). Often those winds get gusty, knock down trees, and we lose power. What good will that Cool Retreat be then? What happens if you can't afford this climate-ready bunker? Should everyone have one? Wont that put more stress on the electricity grid and increase the likelihood it will fail?
It seems what we need is a strategy which has a portfolio of actions based in collective adaptation.
So here I am, doing what I do - beginning to map out more of the elements, relationships and dynamics of the complex challenge. I'm thinking about community-level adaptation strategies, figuring out who's already active in this area, and what I can do to spur on participatory processes to further / speed up adaptation.
Where else would I start?
The initial mapping is pretty rough and ready, but it's an initial mud map from one event, and some time I spent writing a funding proposal for climate adaptation in my local town with Healesville CoRE.
Existing Strategies
Funding
The Community Climate Change Adaptation (3CA) Grants Program (link) run out of Victorian State Government was an interesting effort to outline what they wanted to see happen. The fund states it aims to:
identify and support practical projects focused on adaptation activities with clear community benefit;
foster partnerships between communities, local governments and regional stakeholders on adaptation; and
generate and share lessons on good practice approaches to community adaptation.
When I looked at the funding, I didn't really see much written into it which clearly and explictly compelled groups who were getting funding to publish their learnings for other people and organisations to learn from. This concerns me a little, as our ability to adapt to a changing climate is fundamentally based on the speed we can learn, adopt good practice, and influence change in other areas. Now is the time for more transparency and sharing, not funding sunk into small siloes of change.
I hope that given we're about to tip into 2020, there's a new State Gov strategy being worked on and published, including some comprehensive reviews of the successes and failures of 2017-2020 strategy. We need rolling, adaptive and iterative strategy, not 3 year blocks - the world is a different place now than it was in 2017.
Next Steps
I am still fairly early days in my understanding of the realities of climate adaptation needs, so I feel I want to get a fuller understanding of the lay of the land around energy, food, water and transport.
We're in the process of considering a move within the Yarra Valley / Ranges area, so I need to factor in where "local community" will be. Working with Healesville CoRE wouldn't be quite as satisfying if I'm based over in Millgrove/Wesburn. If that's the eventual jumping off point, I'd want to get to know folks locally over there.
Build some relationships with people on my initial stakeholder map, and start going down the rabbit holes of other connections, to build a more nuanced idea of what's happening in the region.
Build a sense of what might be needed, and where my skills might best be used for greatest potential - probably best mapped out on my systems leverage canvas.