#AfterShock - (re)thinking in systems
Is 'systems thinking' a passing fad for Government, or a zeitgeist which captures an important shift where complexity is embraced instead of fought against?
In the last months of 2020, we took a moment to stop and look back at the year that has been; a year of disruption and pain, but also innovation and opportunity. The Observatory of Public Sector Innovation convened a series of global events under the banner of "Government After Shock". Around the world, the Government After Shock events took different forms, and focused on different themes. But all were connected by three key questions – what do we need to leave behind, what do we want to keep, and what should we do differently?
I was delighted to have the opportunity to share some thoughts, and make space for conversation for a small group of Australian & Kiwi public sector folk to grapple with the realisations and implications of systems thinking for their work. I shared my experiences and perspectives after the rich wisdom of Dr Seanna Davidson from The Systems School, Angie Tangaere from The Southern Initiative, Misha Kaur from the Australian Taxation Office, Professor of Systems Ray Ison from the Open University.
You can watch the video of the event here:
Thea Snow, our convenor and host from Centre for Public Impact, recently penned this excellent summary article from the event, which captured themes and insights.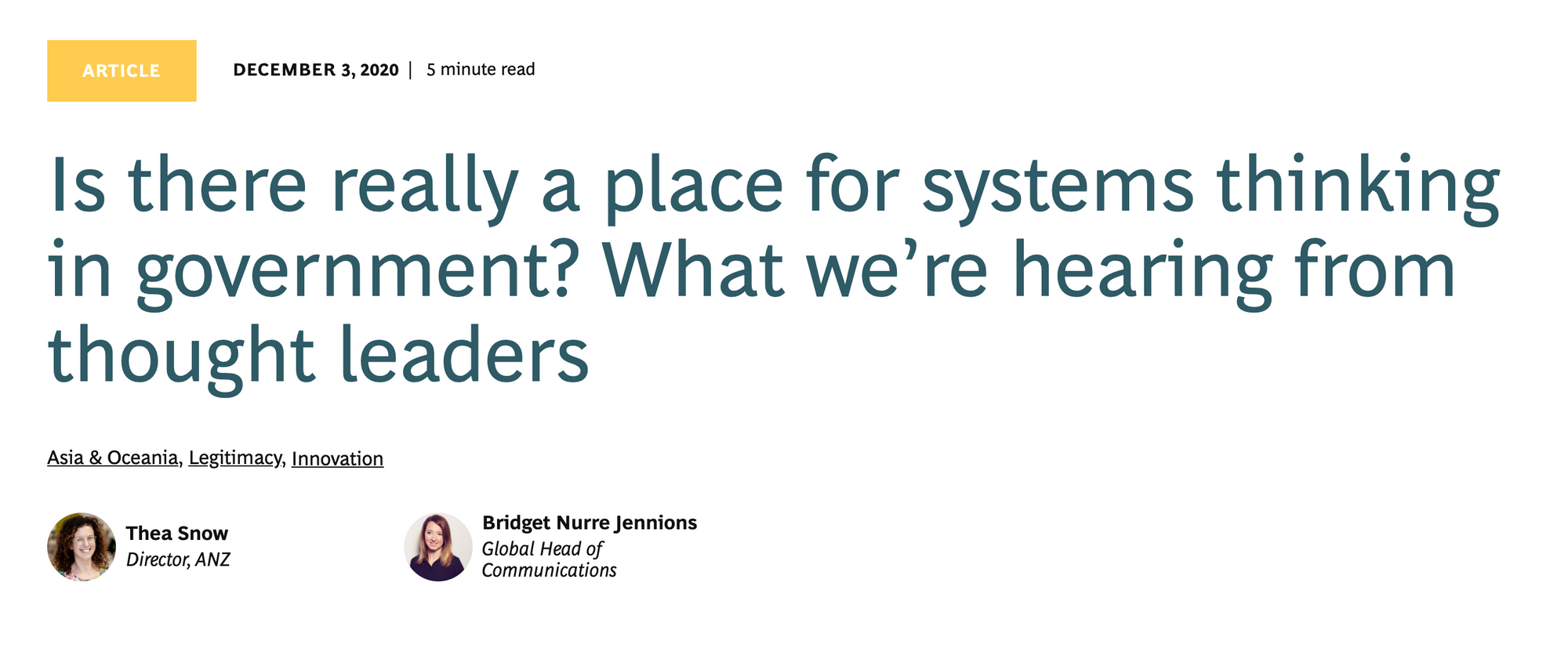 "Is there really a place for systems thinking in government? What we're hearing from thought leaders"
READ THE SYSTEMS THINKING SUMMARY ARTICLE BY CPI
Reflections & Insights
I liked the framing of the global conversation around the three questions:
What do we want to keep?
What do we need to leave behind?
What should we do differently?
These are the three strategic options we always have to make, so the insights from each of these groupings can help to form future strategy for people interested in taking action.
The main theme from the first category - what we want to keep - was to continue to build communities and host conversations. This connects strongly to where my personal practice has led me, and indeed is related to the Learning Change series I've been part of (through which I've been engaged in discussion with Amanda Tattersall, Nora Bateson & Tyson Yunkaporta).
The main theme from the second category - what we need to leave behind - were rigid ways of working, the idea that we have all the answers, and practices, processes and institutions not conducive to systems thinking. Again, this area is one I have pursued with the likes of Lifehack and Monash University, through experimentation culture for example.
The theme from the third category - what we need to do differently - was embracing and valuing different voices and of employing and promoting empathy and humility in how we work. This focus on creating spaces for people to genuinely participate has been a passion for awhile, and one which I value collaboration with so many amazing facilitators and hosts I am lucky to know.
Personal Provovations
If I was to try to summarise my provocations to the group, based on the theme I was asked to speak on: "What change would we see in the world if Governments acted more systemically?", they would be:
Engaged and applied curiosity - seeing and embracing the complexity of the unseen relationships and patterns, to work with the emergence of a system.
Shift from control to influence - understanding, (un)learning and adapting our responses. This involves moving from planning (analyse-to-predict) to experimentation (protoype-to-learn and adapt) mindsets and practice.
Improved funding structures - joined up thinking which uses budgets to achieve pluralistic outcomes (such as outcomes across 6 capitals).
At the core of all of this is the goal: more effective outcomes from Government across our society and environment.
Reminder...
READ THE SYSTEMS THINKING SUMMARY ARTICLE BY CPI
Image courtesy of Purnomo Capunk on Unsplash